Series 4460, 4465 Powermatic® Wheelchair Accessible ADA Exam Table




Custom designed for patients with special needs, including bariatric, geriatric and ambulatory patients.
Hi-Lo motorized lift from 20" to 32". "Hands-Free" foot control.
Vinyl upholstered removable pad, with contoured padded head section is attached with VELCRO® brand fasteners.
Air-Spring pneumatic backrest with dual controls adjusts from 0 to 75° (089 Power Backrest is optional).
Concealed stirrups adjust in length and lateral positions.
Vinyl coated heelrests for patient comfort.
Includes Slide-out Legrest with Pad (098 elevating "Pop-Up" feature is optional).
Includes Paper Dispenser and Cutter.
110 V, 60Hz, 3.5 Amps.
Laminate: Folkstone Gray or your choice of any high pressure laminate solid color or woodgrain.
Upholstery: Choice of (18) standard vinyl colors.
Weight Capacity: 400 lbs.

4460

55" - 71"

26"

20" - 32"

4460-LD

Same but less Duplex Outlet

4465

Left Hand Table

4465-LD

Same but less Duplex Outlet
Weight Capacity: 181 kg

4460

140 - 180 cm

66 cm

51 - 81 cm

4460-LD

Same but less Duplex Outlet

4465

Left Hand Table

4465-LD

Same but less Duplex Outlet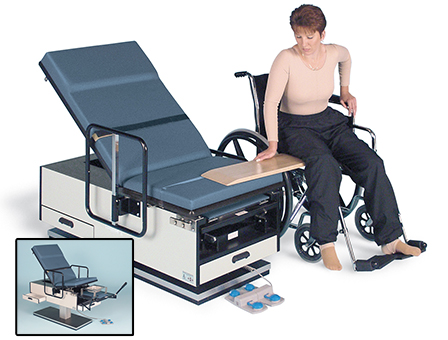 Model 4460-LD is shown with Options: 04 Safety Strap, (2) 15 Safety Rails, 17 Utility Rails, 089 Power Backrest, 091 Pelvic Tilt, 098 Pop-Up Legrest, 097 Stainless Steel Pan
Colors:
Pro-FORM™ Vinyl Colors









Offer firmer feel for high-volume therapy and sports practices.
CAL133 - Boston Fire Rated tops are available at an upcharge in
Pro-FORM™ vinyl only. Specify "BF" when ordering.
ComfortPLUS™ Vinyl Colors








A softer feel for enhanced patient comfort in general practice use.
Don't see a color you want? Call or contact us for special color requests for any C.O.M. requirements.
Laminate Colors

OR, choice
of any other
high pressure laminate solid color for
woodgrain. Call of color chart.
Durabilty. Scratch & Dent Resistance. Easy to Disinfect.

Color accuracy may vary according to yout monitor's color settings. Color samples may be obtained from Customer Service.