Series 1411 Mat Platforms with Black Laminate Top




Will accommodate optional 2" thick removable 3002 reversible mats.
Mats are attached to platform with VELCRO® brand fasteners.
Black laminate rimless suptop adds to comfort and ease of cleaning.
18" height is wheelchair accessible.
Natural Oak high pressure laminate finish.
All models have (6) legs for increased strength and stability.
Weight Capacity: 1000 lbs.

| | | | | |
| --- | --- | --- | --- | --- |
| 1411-46-346 | 4' | 6' | 18" | 3002-46 |
| 1411-47-346 | 4' | 7' | 18" | 3002-47 |
| 1411-57-346 | 5' | 7' | 18" | 3002-57 |
| 1411-68-346 | 6' | 8' | 18" | 3002-68 |
Weight Capacity: 454 kg
| | | | | |
| --- | --- | --- | --- | --- |
| 1411-46-346 | 122 cm | 183 cm | 46 cm | 3002-46 |
| 1411-47-346 | 122 cm | 213 cm | 46 cm | 3002-47 |
| 1411-57-346 | 152 cm | 213 cm | 46 cm | 3002-57 |
| 1411-68-346 | 183 cm | 244 cm | 46 cm | 3002-68 |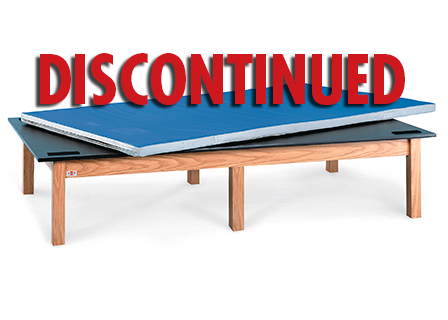 Model 1411-47-346 Shown with Option: 3002-47 Mat